13-16 of March 2023 Dr. Arūnas Svitojus, President of the Chamber of Agriculture of the Republic of Lithuanian, Viktorija Švedienė, President of the Lithuanian Cattle Breeders' Association, together with farmers Jurgis Karazinas, Egle Bitaityte, Justas Pošiūnas and Ieva Bitaityte, visited the northern French town of Lille, where they took part in the activities of the HORIZON 2020 project "R4D – Resilience for Dairy".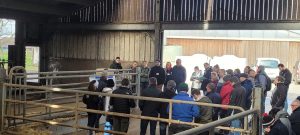 Farmer Jurgis KARAZINAS shares his thoughts and impressions after one of the project activities
"While visiting French and Belgian farms and discussing with farmers from other countries the problems of the dairy sector in Lithuania and other EU countries, I realised that the main problem of Lithuanian farmers is the lack of cooperation. In Lithuania, the majority of dairy farms are not cooperative and are dependent on the mercy of one company – a processor, a person or an owner. This does not change the situation when there are other processors. The principle remains the same. Being part of a cooperative allows me to react more calmly to the current market fluctuations.  In discussions with farmers in Germany, France, Belgium, Poland and other countries, I have noticed that there is not a single one of them who does not belong to a cooperative. All the participants in the project from other countries have farms of no more than 200 ha.  Although the price of milk has fallen in other countries today, it is certainly not as drastic as in Lithuania.  Everybody understands that the price of milk is a global problem today. In Germany, for example, the current situation is one in which farmers have put a floor under milk prices. In meetings with farmers from other countries, we discussed how to improve farm efficiency, work more sustainably, and tackle the challenges that arise," Jurgis Karazinas shares his impressions.
The project visited four dairy farms with between 55 and 115 dairy cows.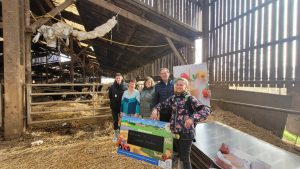 About the farm of Jurgis Karazinas
Jurgis, who farms in Kretinga district, together with his dad, keeps around 100 Holstein or Holstein-trained black-and-white cows, with an impressive average milk yield of 11.9 tonnes per cow per year.
"We are members of the Lithuanian Cattle Breeders' Association and are constantly interested in new developments, participating in educational seminars on breeding, reproduction, feeding and animal husbandry. Feed quality and genetics are key elements of added value. But everything is linked and important – housing conditions, health, genetics, diet. All of these have a direct impact on milk quality and quantity. We evaluate each cow individually on the farm, and select the sire based on the qualities that need to be improved and the exterior that needs to be enhanced," says Jurgis Karazinas about the farm.
Project objective
The aim of the project is to address the pressing sustainability challenges faced by dairy farmers. The project aims to bridge the gap between science and farmers across Europe by engaging with farmers, leaders of farmers' organisations, consultants, researchers and scientists from as many as 15 countries – Lithuania, France, Denmark, Luxembourg, Hungary, Luxembourg, the United Kingdom, Belgium, Spain, Italy, Finland, Poland, Ireland, Germany, Slovenia and the Netherlands.