On the first of August, a online meeting of the Farmbox project partners took place, with the participation of representatives of the Chamber of Agriculture of the Republic of Lithuania (CARL). During the meeting the project partners UTE presented the first draft of the system architecture and the connections between the MOOC and the Simulator. Starting from the 5 topics identified in Milan during the 2nd Partners Meeting and associated with the expertise of each Partner (Biodiversity-OIKOS; Climate Change Mitigation and Adaptation-PIT; Food Security-UNIPD-TESAF; Sustainable Farming-CARL; Land Planning and Management-UTE), UTE has prepared a template that is going to be used for each of the above mentioned topic in order to:
-describe the simulation scenario(s)
-describe the good agronomic practice(s)
-define the simulation algorithm(s) and result(s).
An example of how the template needs to be filled in by each Partner is provided by UTE.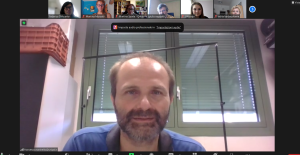 All Partners are requested to have a look at the general description of the system architecture, at the template they need to complete and at the example provided by UTE. These materials are going to be discussed and completed during bilateral meetings organized in early September between UTE, UNIPD-TESAF and the rest of the Consortium to define the simulation scenarios and the algorithm schemes for all the topics connected to CSA.
Moreover, once the good practices and algorithm schemes are going to be finalized, these are going to populate the Simulator and contribute to the development of the Advanced Course of the MOOC.
CSA MOOC – Beginner (O1-A2): state of art
Most of the contents have been produced and uploaded by Partners.
By the end of August, the last missing contents in English are going to be finalised. Partners will receive specific indications via email about what is missing/needs to be revised. Among these contents, there is:
-Introduction to Beginner course – the video will be produced by using the same template developed on Canva by UTE
-Introduction to each Unit – the video will be produced by using the same template developed on Canva by CARL. All Partners are requested to adapt the template to the contents of their Units.
-Introduction to the Simulator – using the template which is going to be prepared on Canva by CARL
Once all the materials in English have been finalised, these are going to be sent to the UNIPD Training Office for the formal check and upload on EduOpen.
By the end of August also the translation of contents in national languages need to be completed.