13-16 March 2023 Dr. Arūnas Svitojus, President of the Chamber of Agriculture of the Republic of Lithuania, Viktorija Švedienė, President of the Lithuanian Cattle Breeders' Association, together with farmers Egle Bitaityte, Justas Pošiūnas, Jurgis Karazinas and Ieva Bitaityte, are participating in the R4D – Resilience for Dairy meeting of the HORIZON 2020 project, which is taking place in the northern France, in the city of Lille.
"The project aims to address the urgent sustainability challenges faced by dairy farmers. The project aims to bridge the gap between science and farmers across Europe by bringing together farmers, leaders of farmers' self-management organisations, consultants, researchers and scientists from as many as 15 countries – Lithuania, France, Denmark, Luxembourg, Hungary, Luxembourg, UK, Belgium, Spain, Italy, Finland, Poland, Ireland, Germany, Slovenia, the Netherlands. We will visit farms, have active discussions, present our country's experiences and situations, and try to bring back good examples that could be useful to apply in Lithuania", informs Dr. A. Svitojus, President of the President of the Chamber of Agriculture of the Republic of Lithuania.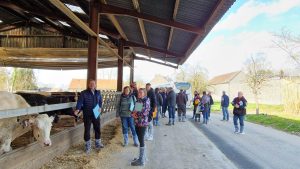 109 people from as many as 55 farms are participating in the project meeting. "It is so much fun to meet like-minded people, and it is even more fun when it is international. We have an active and interesting agenda – we will visit 4 advanced dairy farms, complemented by discussion groups on machinery, cattle breeding and nutrition; work organisation and workload; social expectations; climate change and environmental impact. Having just arrived, we already feel like we are among our own, so we are looking forward to new knowledge, experiences, discussions and new friendships to share when we return", says farmer Ieva Bitaitytė.
The participants will visit four dairy farms where they will learn from best practices: the farm of Dirk Vandecandelaere in Wervik, Belgium. This is a medium-sized farm in Flanders with around 115 dairy cows.
Also in Belgium, the farm of Steven Van Parys in Machelen. This dairy farm has managed to integrate existing automation into a new barn with 120 dairy cows, so that it can be considered fully automated.
The following day, participants will visit farms in France: EARL de la Clarine (Amaury Smets), an ecologically converted dairy farm located in an urban area (15 km from Lille). The farm has 55 cows. This family farm processes the products and sells them in the cooperative shop, which will also be visited by the participants.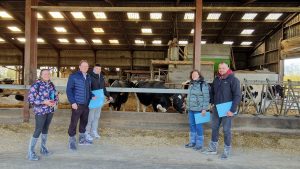 The fourth farm visit will be to Jean-Marc Burette Fleurbaix, who has 76 dairy cows whose milk is collected by Danone, the world's leading dairy company.
During the farm visits, the farmers will discuss resilience issues, look for the best solutions to contribute to reducing climate pollution and how to improve their existing competences and farming practices.